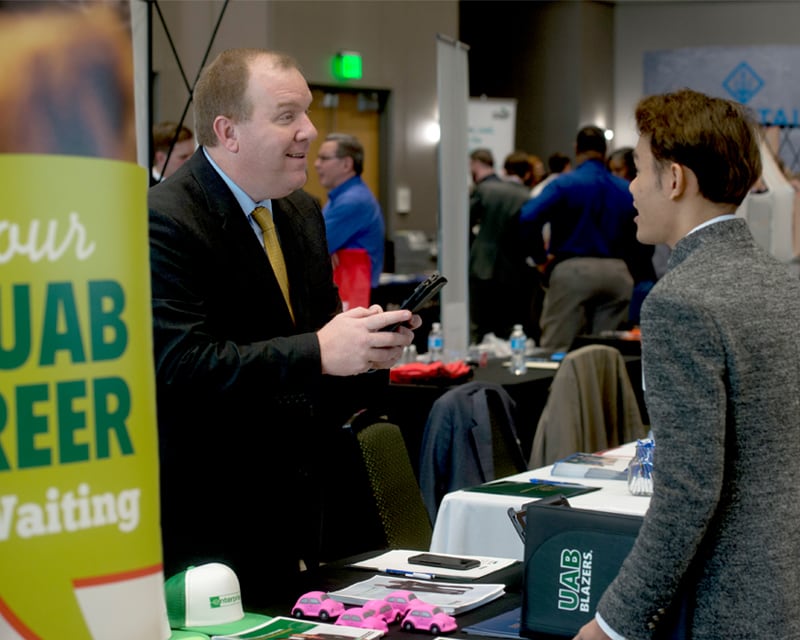 You've got plans. We've got ways you can get there. We get it. College is about preparing for the real world—for the career of your dreams. Some of that preparation is going to happen in the classroom. Some of it is going to be real-world experience. If you want an internship, we want to help you make it happen. Don't forget that we're right in the heart of Birmingham, so from law firms to successful start-ups to some of the nation's top health-care facilities, there's opportunity right outside your door. If you're thinking of following up your bachelor's with an advanced degree, we're here to help prepare you. And when you're ready to start your career, well—Thrillist named Birmingham one of the best cities for job seekers in the U.S. Just saying.
Step 1.

Start with an internship

Did you know you can land an internship as early as your first year? We love seeing our students paired with businesses that will help them learn firsthand about their fields. What's the best way to find an internship? Talk to your school's career advisor, meet with a professor, and then check out the UAB Career Center and learn more about Handshake. That's the app we use for UAB students to search for jobs and internships posted by local businesses. It's pretty great—and it means our students get some valuable experience.

So where do our students intern? Here are a few spots:
UAB
Alabama Department of Public Health
Alabama Power
Altec
American Heart Association
BBVA
Blue Cross Blue Shield of Alabama
Johns Hopkins University
Lakeshore Foundation
Protective Life
Random Logic Games
Regions Bank
Southern Research
United Way
Step 2.

Get into graduate school


(Psst. If you're ready to hit the job market, advance to Step 3.)

Still have more studying to do before you launch a career? We see you. Our undergraduates go on to study at some top-ranked programs, many of them right here at UAB. Research, the arts, professional programs, you name it. If you want to take your education to the next level (literally), we want to help you get there. Take a look at where our recent grads have headed. We're awfully proud.
Belmont University
Cornell University
Emory University
Harvard University
Johns Hopkins University
Kansas State University
Pratt Institute
Stanford University
Texas A&M University
University of California at Berkeley
University of Miami
University of Oxford
Vanderbilt University
Washington University in St. Louis
Step 3.

Begin your career

We get super excited to see where our students end up. From signing on with local start-ups to performing on the big stage in New York City, to diving into life-changing research—our graduates accomplish truly amazing things. We can't wait to see what you do.

Here are a few places our graduates work:
Bank of America
BL Harbert International
Brasfield & Gorrie
BioHorizons
Children's of Alabama
General Electric
Honda Manufacturing of Alabama
IBM
NASA
Mercedes-Benz U.S. International
PricewaterhouseCoopers
Southern Company
U.S. Pipe
Walt Disney Studios