Instructors may choose to provide access to Class Recordings in one of the following ways. Please refer to your specific course syllabus or contact your instructor directly if you have specific questions on how to access recordings.
Note: Google Chrome or FireFox are the recommended browsers for the best computer viewing experience. Student's attempting to view videos on a mobile device should always use the Canvas Mobile app instead of their mobile browser.
Note for users of screen readers: letters in parentheses in the instructions below refer to corresponding areas on example images. If you have any questions about these instructions, contact eLearning for assistance.
On this page:
Instructors may publish videos to the Canvas course Media Gallery. The Media Gallery is a course specific gallery of videos that can be searched, filtered, and sorted.
Click Media Gallery (A) in your Canvas course navigation.


Note: If Media Gallery is not listed in your course navigation, your instructor may have chosen another method of sharing videos in your course.

The top left video is the most recent uploaded video. Click the thumbnail (B) to watch the video.
Students can:

Sort (C) the list of videos by creation date, alphabetical, or plays
Filter (D) the list of videos by media type, captions, duration, or upload date.
Search (E) videos by keyword. This will search the title, description, tags, and captions.
Change the View (F) to Grid, Detailed, or Collapsed view.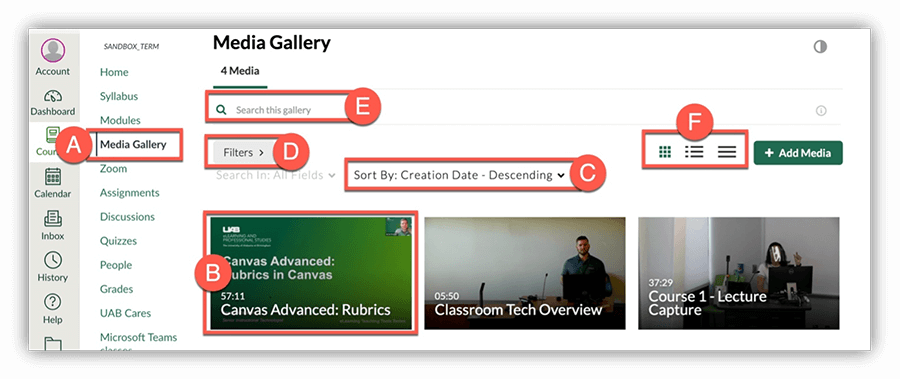 Instructors may choose to embed videos in specific places across the Canvas course.
Locate and click the page (A) or area your instructor has embedded the video. This is often found in your course modules.

Click the thumbnail (B) to play the video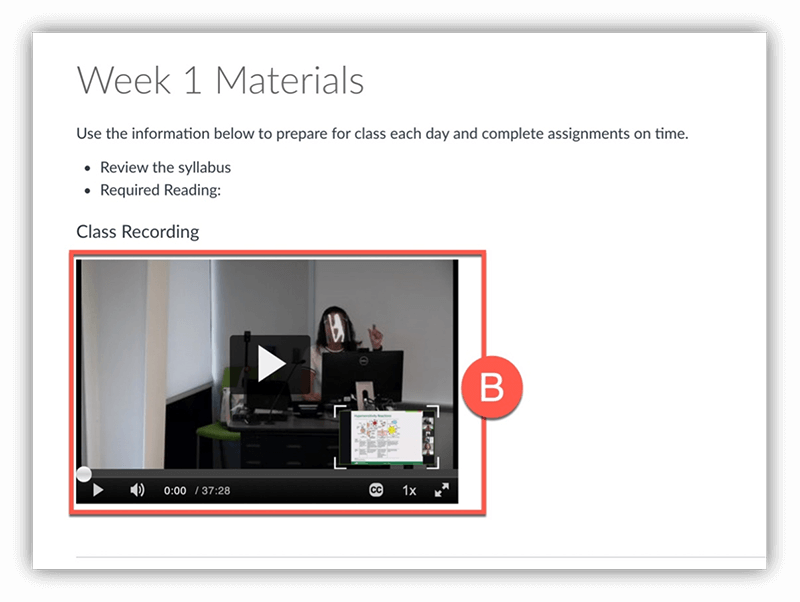 ---